Latest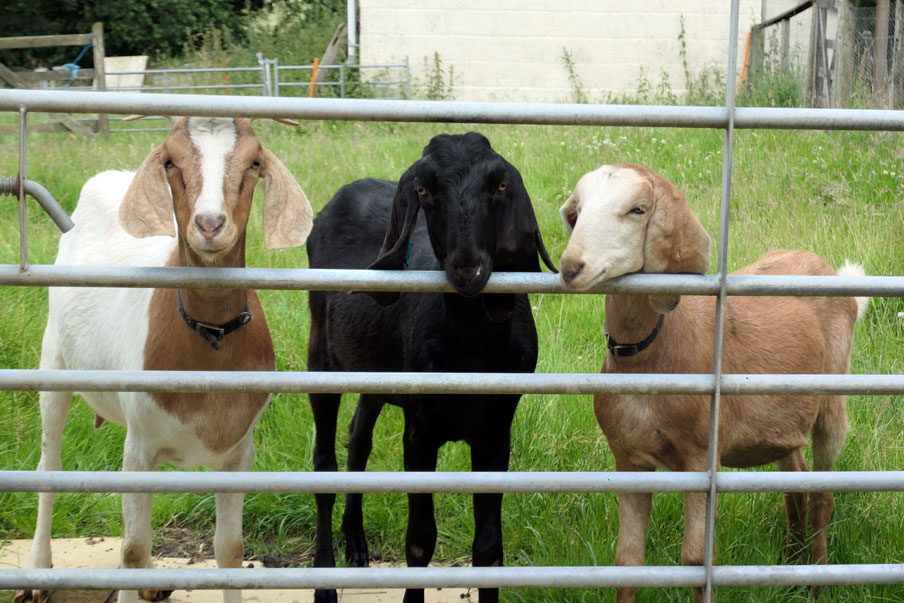 1st: A return to the river!


We (Jack) took three of the dogs to our local woods and river today! Big day for them and for us as it has been a very, very long time since we walked any of our dogs off our own land. Our friend Lynda Pons came with us to make sure we didn't get lost or hyperventilate with the worry of them running off or mis-behaving.
This was Sparrow's first time away from home: aside from falling in the river by a very steep bank and having to be hauled out by her collar, she was just amazing. We forgave her for the fact all Jack's clothes had to go in the washing machine as soon as we arrived home and that in order to reach her, Jack literally had to hang head first from the bank via a dog lead tied to a tree.
Roxy and Dragonfly were impeccably behaved - Roxy's squeal of excitement when we opened the gate to the drive so she could jump in the car, was such a joy to hear.
We are so lucky to have our own land to walk our dogs but an hour somewhere else was such a boost, for them and for us!! We plan to repeat it for the other three very soon!!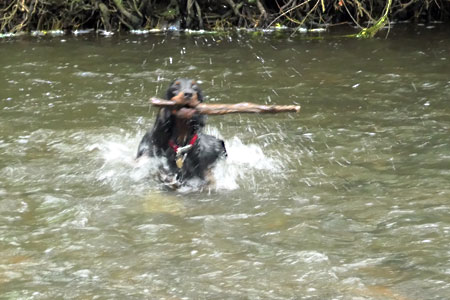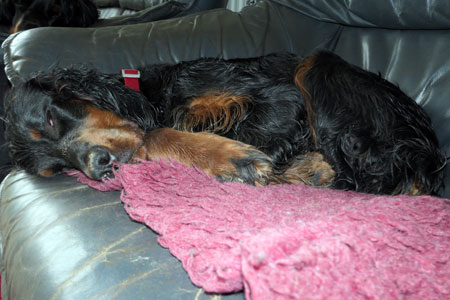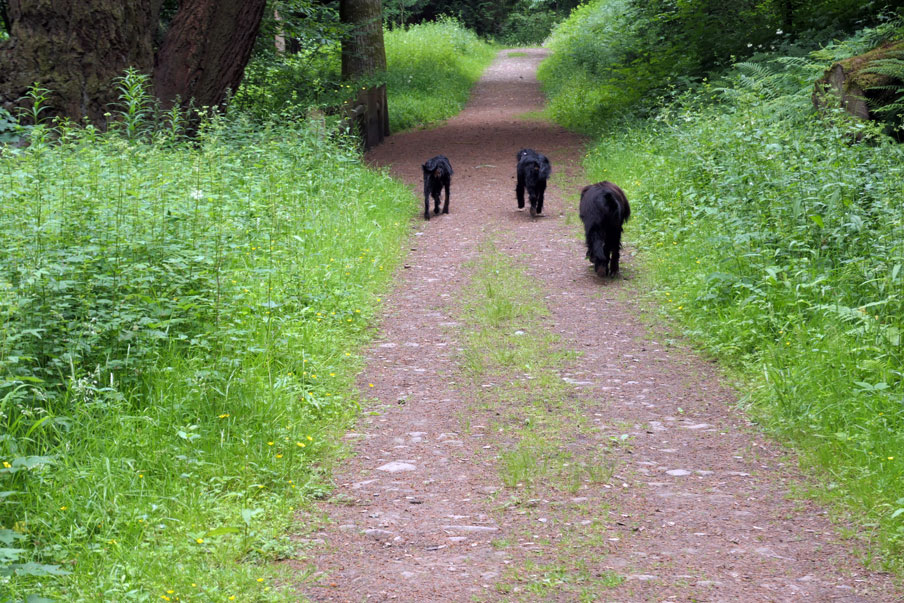 2nd: Oak Field


A proud selection of grasses in Oak field, with a delightful flowered-filled stem of Sorrel in the middle!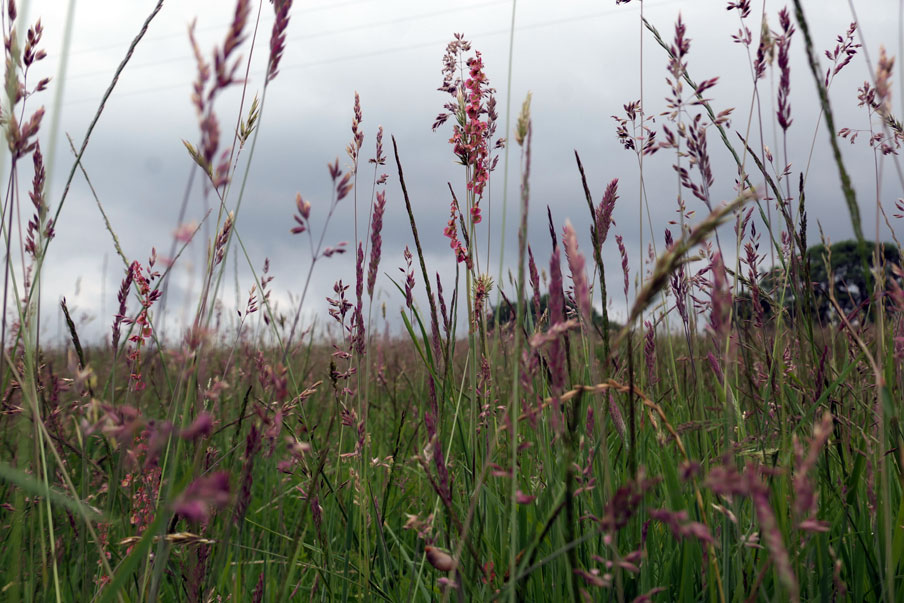 3rd: Wild flowers


Oak Field is revealing all sorts of riches this year: it hasn't been grazed by any 4-leggeds since the end of May and as such all sorts have been showing their faces. These two are Birds Foot Trefoil (Eggs and Bacon) and Common Marsh Bedstraw (as ID-ed by those clever people on Celebrating Smallholding UK). We also have cuckooflower, buttercups, campion, clover and sorrel, to name just a few others that we know. On our walks, we spend as much time looking down as we do up and across!!!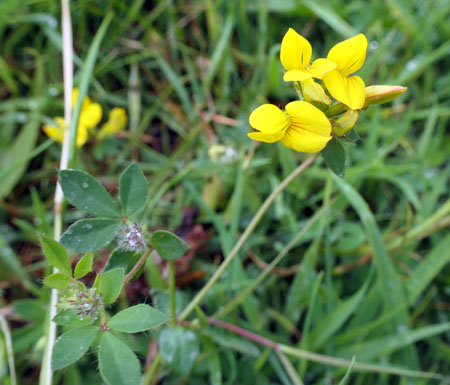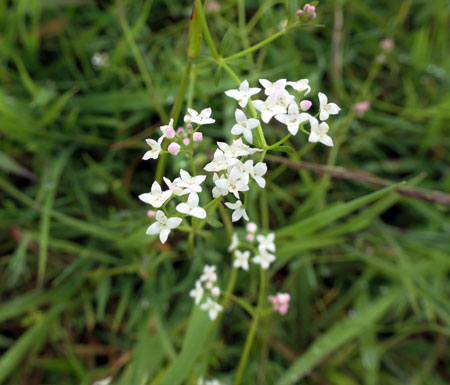 4th: British weather


From sheltering in one of their field shelters (25 sheep and 7 alpacas) to, less than 4 hours later, grazing on sweet, green grass under a warm blue sky!!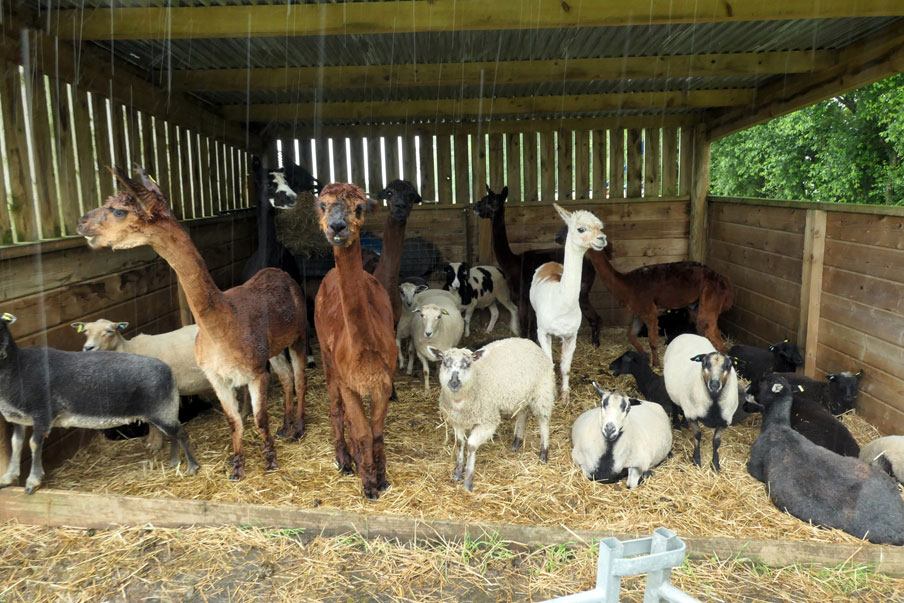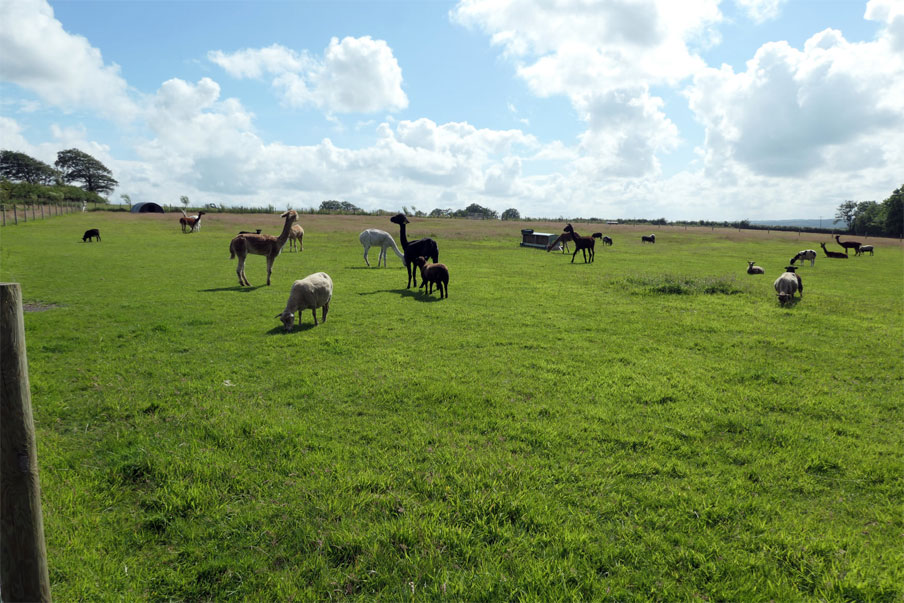 5th: Grass seeds


No matter how long we have been living this smallholding life, there will always be those 'firsts': experiences and events we haven't encountered before because we only have a few animals or a few acres or a small woodland etc. Ours this last week has been grass seeds embedding themselves in the lambs' feet - ouch!! After the very late spring, our grass went from the sublime (i.e. virtually none) to the overgrown ridiculous where within a mere couple of weeks, it grew fast and furious and then went to seed. We have had grass seeds embed themselves in dog claws before, never sheep. In three of our lambs, they had worked their way up between the toes and into the skin. In one lamb, we even had a few maggots, such was the speed of the infection that took hold. All were sorted with the magical blue spray (Cyclo) but today we bit the bullet and topped. Shame for the wildlife - but essential for the sheep!!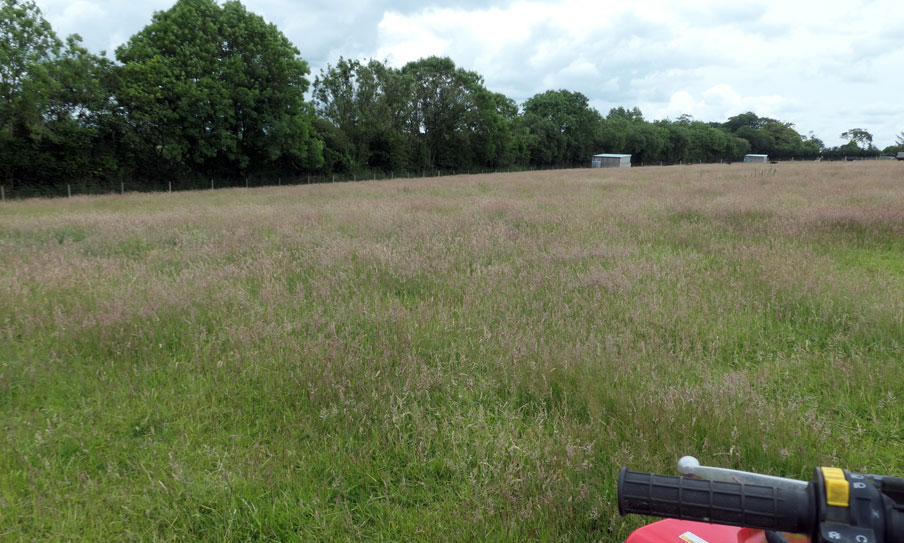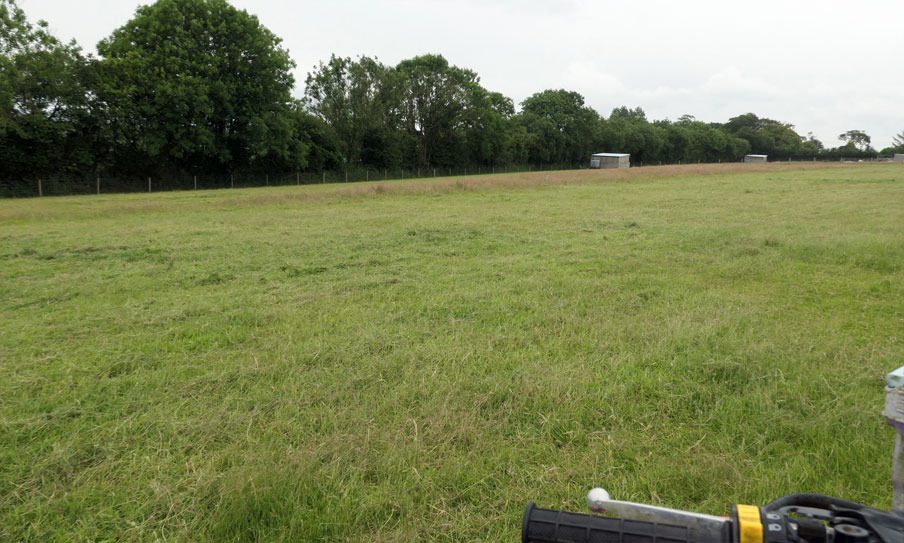 6th: Snug


On a cold, damp July (!!) day, where better to snooze than on a pile of fresh straw in the middle of the barn. Well done Chilli!!! Almost joined you!!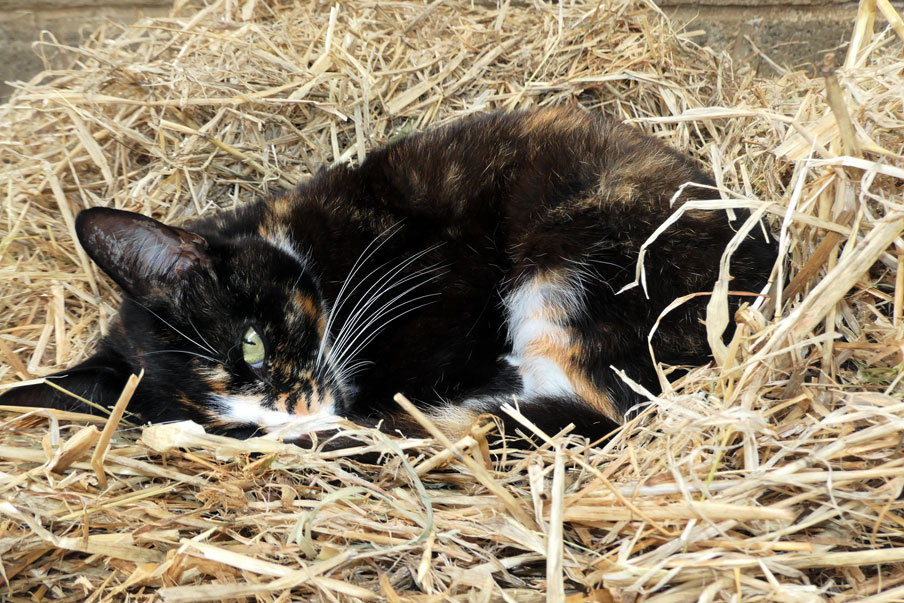 7th: Bedding Plants


In a rash moment or seven, we pressed 'Buy Now' on eighty bedding plants, all reduced of course with an enticing, buy 3 for 2 type of offers!!
We didn't take a proper 'before' picture of this area outside the greenhouse which, before we started, was completely covered in weeds, including all the concrete but, the 'midway' photo shows what is was like before we filled it with pots of plants and trees. Once the bedding plants have all got going, we will then move some of these pots to various places such as the decking so we can appreciate the colours in all their glory - and no doubt have to politely ask the cats not to dig them up and the dogs not to chew them!!! (Oh and we planted a courgette and a squash at the back too.)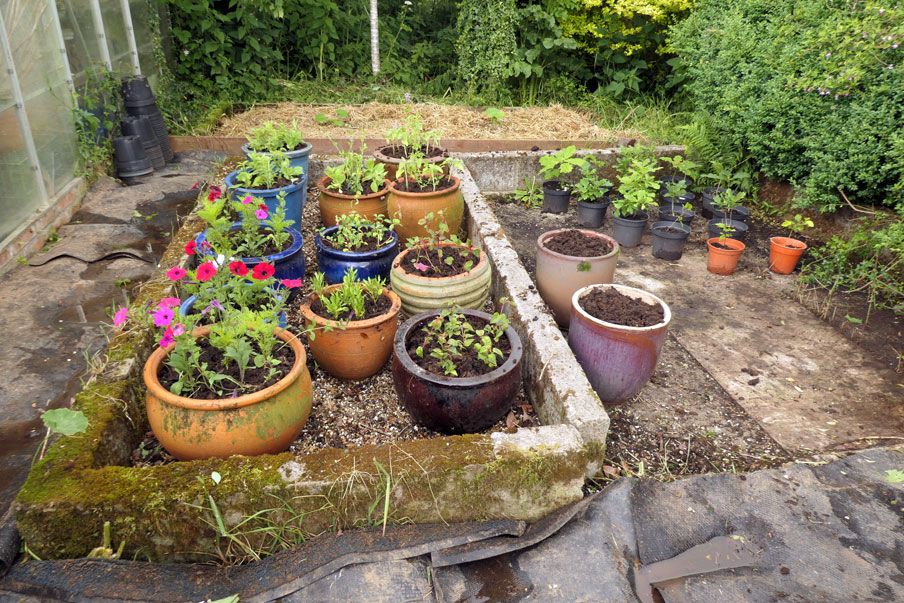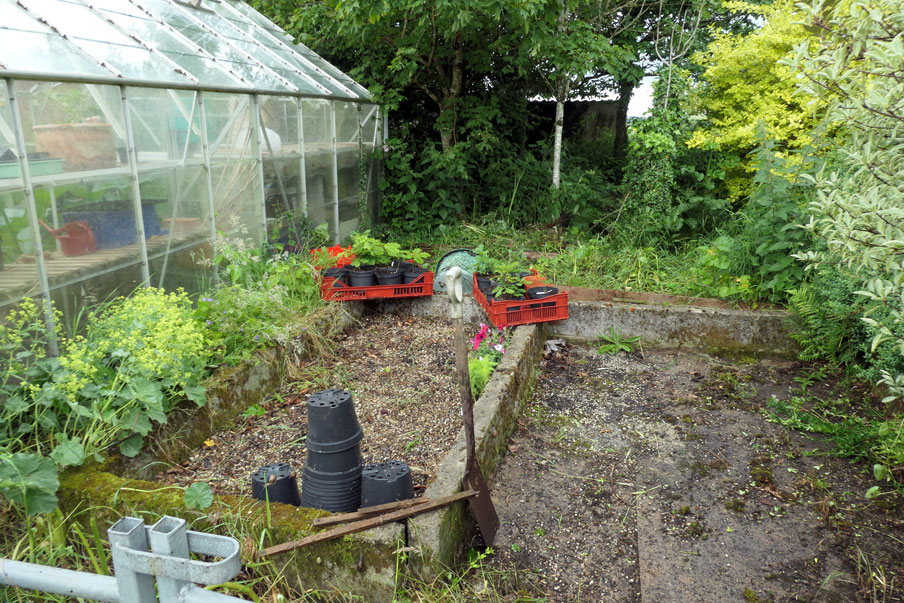 8th: The turn of the Irish


Walk number two of our 'it's-scary-but-lets-take-the-dogs-to-the-woods' walks: this week with the Irish (Stonefly and Firefly) and a second-week-in-a-row for Sparrow. We didn't get the joy of muddy steep bank rescues today but the stomach did go a bit fluttery when on the way back, Stonefly headed off to the river again and took rather a few more seconds than we wanted (like about 60) to come back!! Otherwise, another gorgeous walk, fabulous behaviour and we met not a sole. We did however meet a big scary rock in the river which Stonefly very bravely barked at for us to keep it at bay!! Once again Lynda came along to keep our nerves in check and did a grand job!!
My goodness do we love our dogs to bits and then some!! (pictures a bit rubbish this week, poor light as well as poor operator)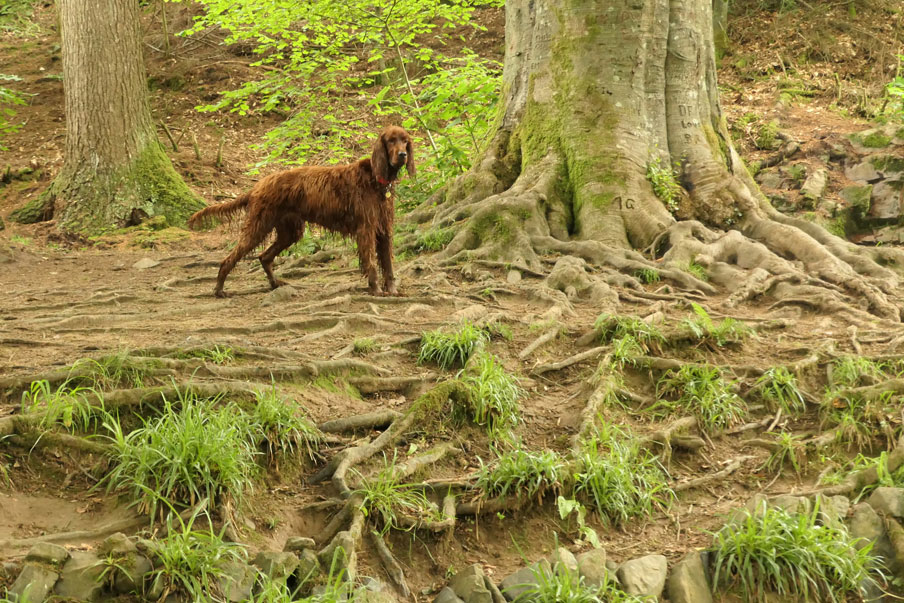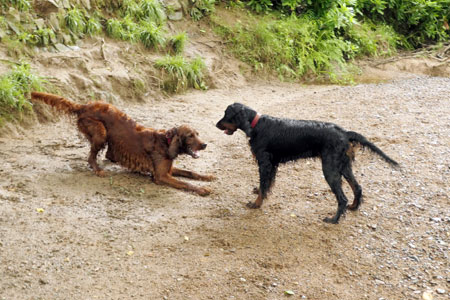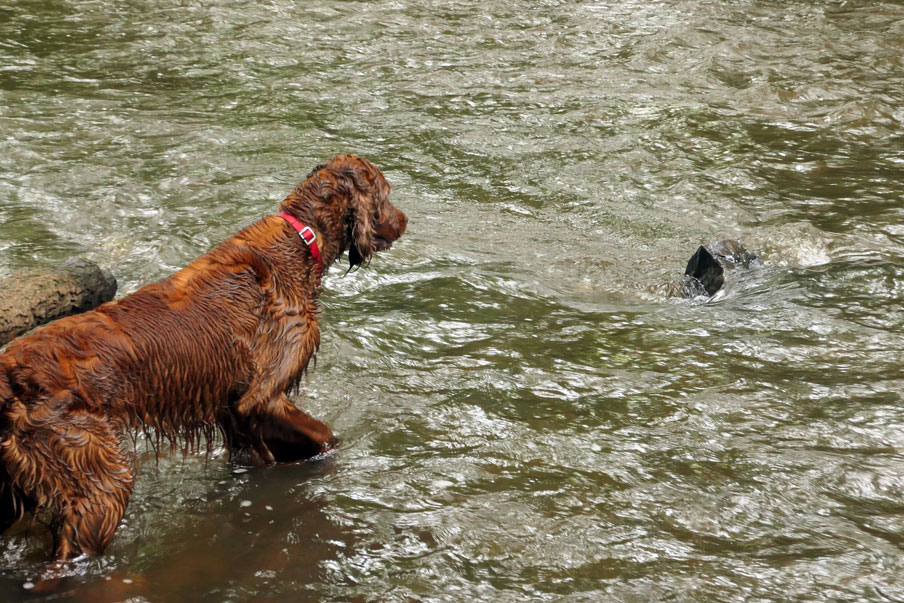 9th: Adorable


The goats get fed in the afternoons at the start of our last walk of the day. It doesn't stop them waiting for us at the gate mind you and greeting us at the end - ever hopeful!! It would be easy to give in!!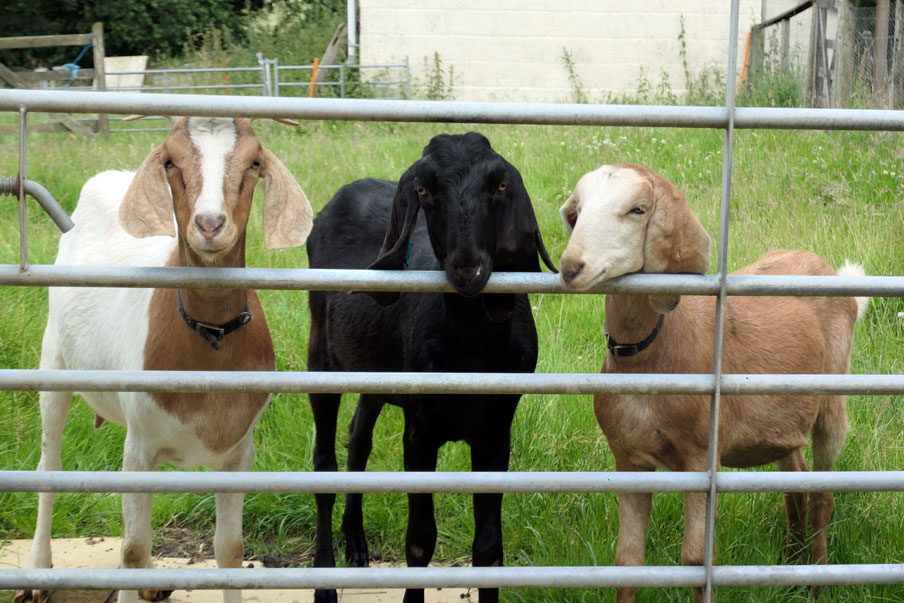 10th: Busy, busy


A very busy day cleaning out the poultry IBC tank, fitting solid downpipes to all the tank in each field, brushcutting more scrub in the poultry area, moving the sheep and alpacas to Goat Field, worming kittens and putting healing cream and fly repellent on Themisto's bare patches. We took not a single photo of all our endeavours - so here is a mega cute one of Roxy instead!!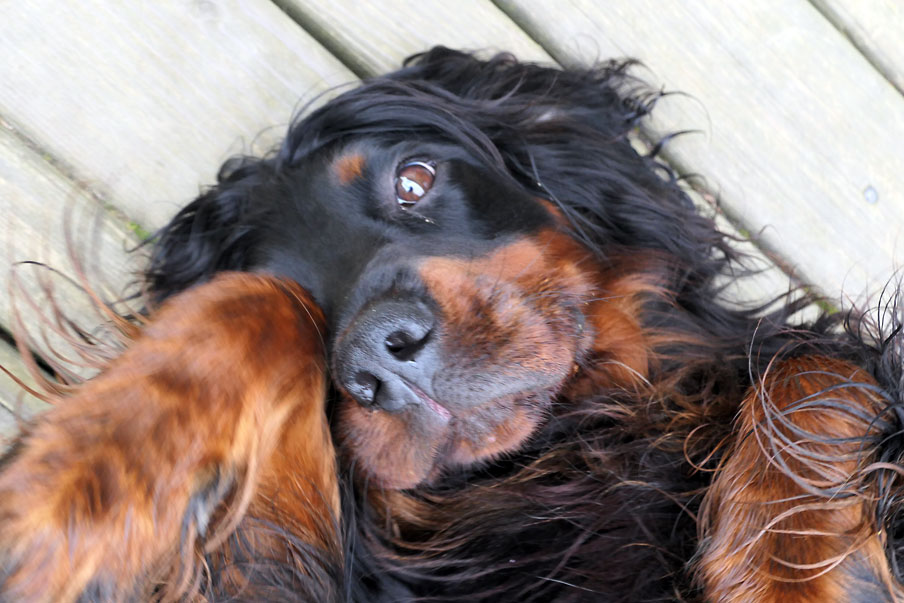 11th: Butterflies


It seems as though it is going to be a good year for butterflies -in Oak Field where the grass is longest, we are seeing a lot. This (we think) is a mating pair of Meadow Browns - the female is the brighter, bigger one - unusual as in butterflies, the male is usually the most colourful. Sad to think that in four to five weeks, this pair will have reached their expected lifescan. Their caterpillars on the other hand, live for eight to nine months!!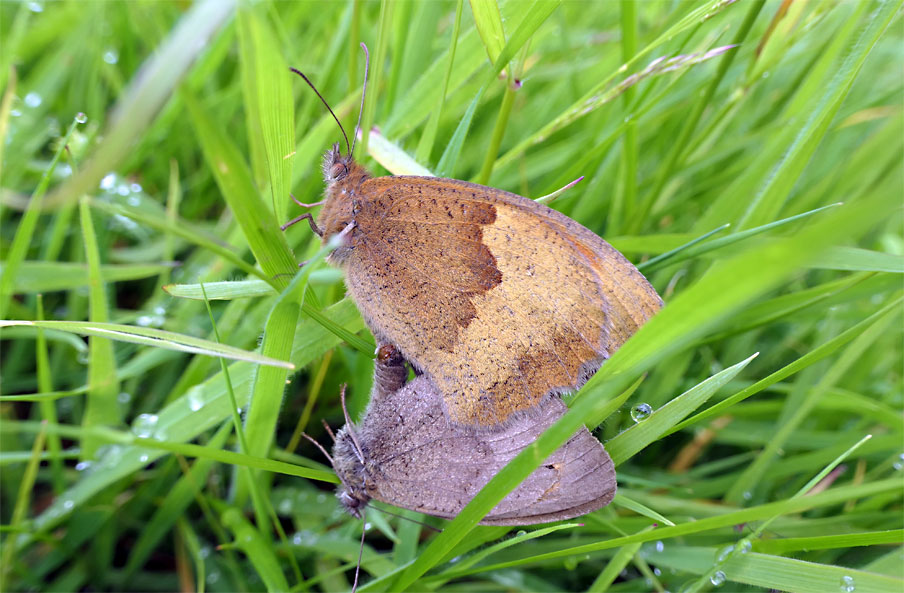 12th: Getting there


The Poultry Area is starting to look sooo much better - the amount of land we have reclaimed now we have removed all those nettles, is just fantastic. Our plan is to get lots of cuttings on the go this summer/ autumn: buddleia and honeysuckle in particular and then get planting next spring. To get the pig ark covered in honeysuckle would be just amazing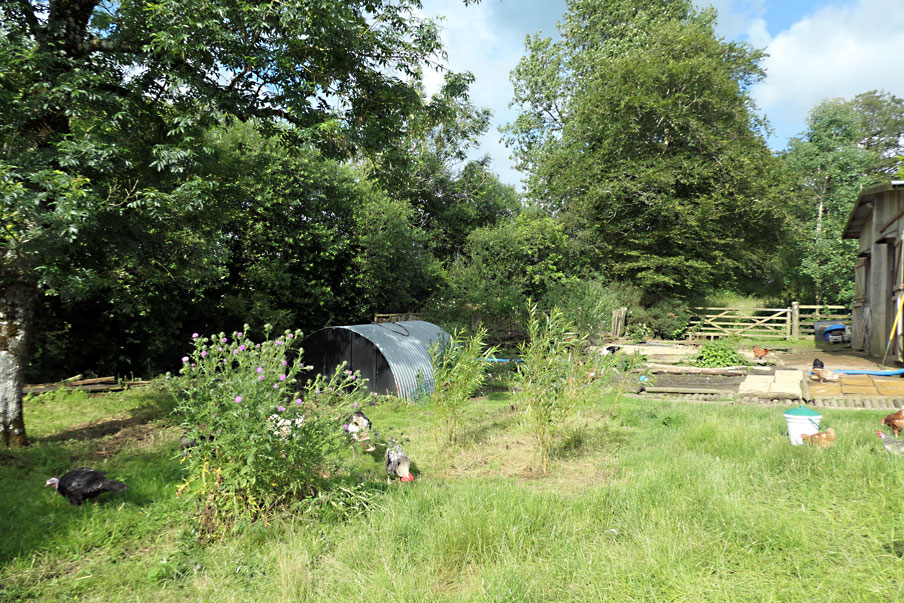 13th: Friends


Today, Jeanette Viney and Diana Mitcham drove all the way from Oxford to spend the day with us. Back in the late nineties/early noughties we all worked together for Hamilton Trust. Thanks to social media we've kept in touch on and off over the years but we hadn't seen Diana since she visited our smallholding in Cornwall some 9/10 years ago, and we hadn't seen Jeanette since we left Oxfordshire (2009). Getting together again was just amazing - none of us had really changed - we reminisced, laughed, had a good old gossip about past and present colleagues and experienced a few 'awww' moments - especially when we recalled Rabbit, our first dog and for several years the 'Hamilton office dog', a role he utterly adored. Our current pack of hounds and goats loved the extra visitors, the rounding up of sheep (bonus activity) went like a dream, the alpacas were delightfully inquisitive and the weather could not have been more perfect. It was a perfect, perfect day and has made our year! xxxx (Photo credits to us all).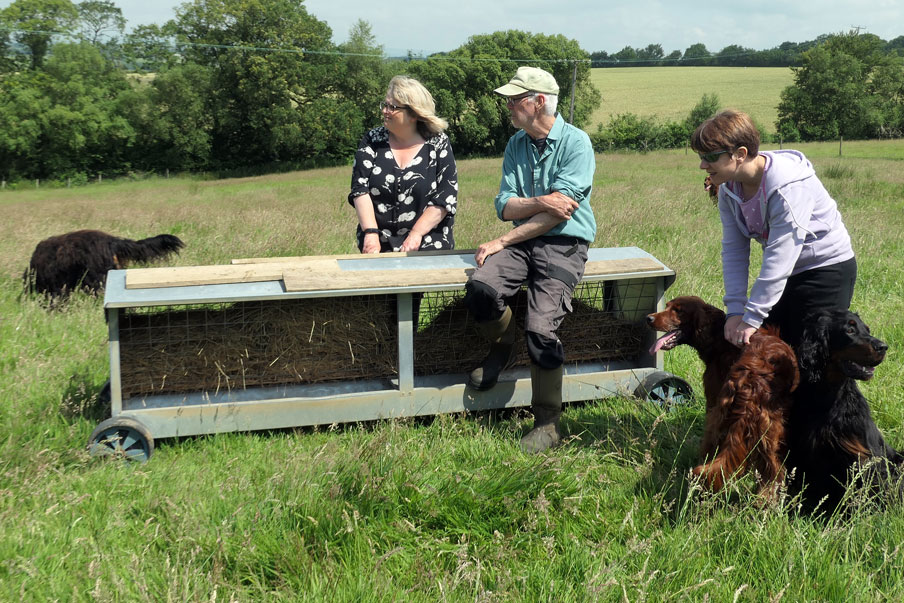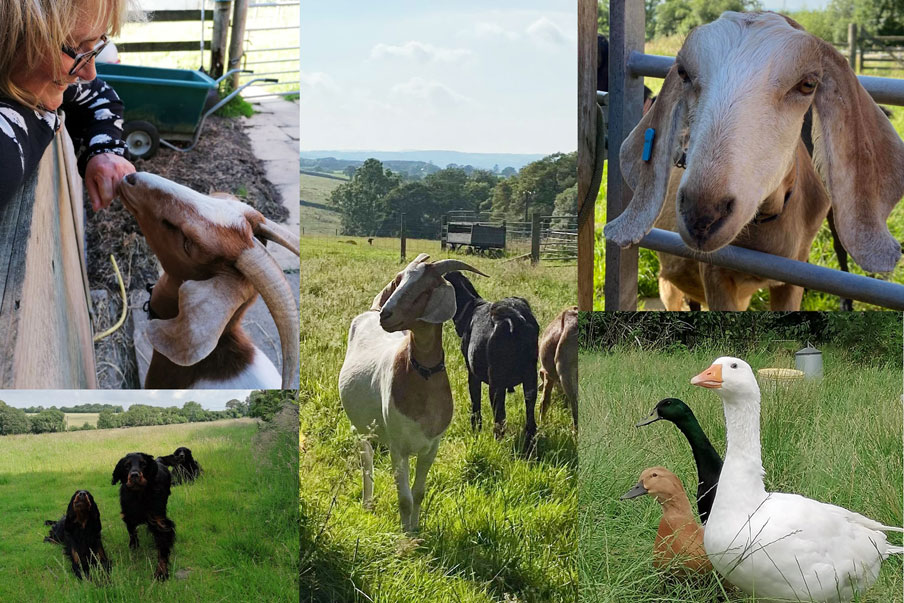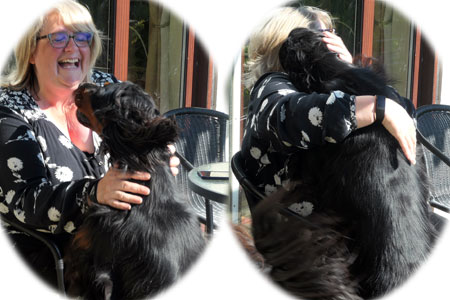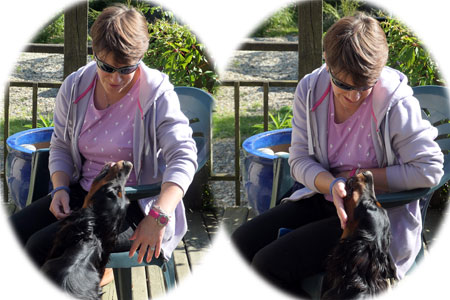 14th: Summer


We will never, ever, tire of this view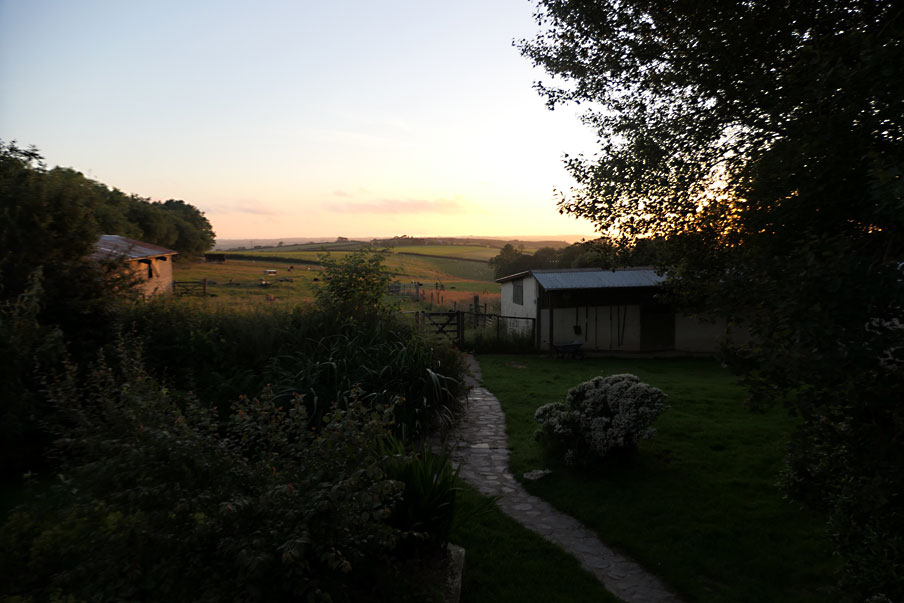 15th: First day out


Our latest rhea chick was sadly the only one to hatch from a batch of 4 eggs that made it to lockdown, 1 didn't internally pip and two did, but then died before managing to break out! We so wished we had given them a helping hand!
This little orphan is a toughie though and despite only being a day old, we felt he was better outside in the run with his siblings, learning how to eat and getting the exercise needed to strengthen his legs. We are now heading into a period of very warm days so there is no issue with him getting cold and at night, he will be back inside with a heat lamp if required.
He is mega cute - they always seen more so when they are on their own!!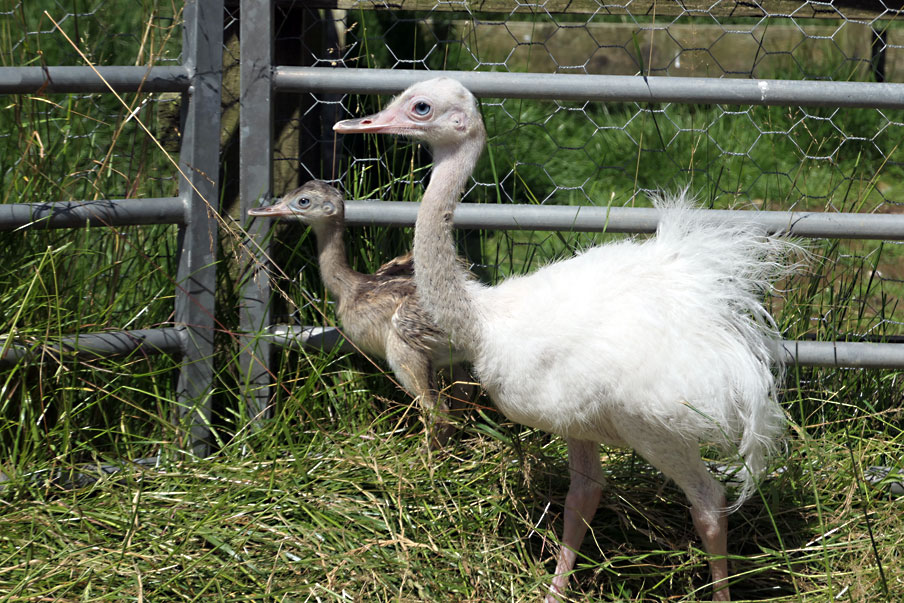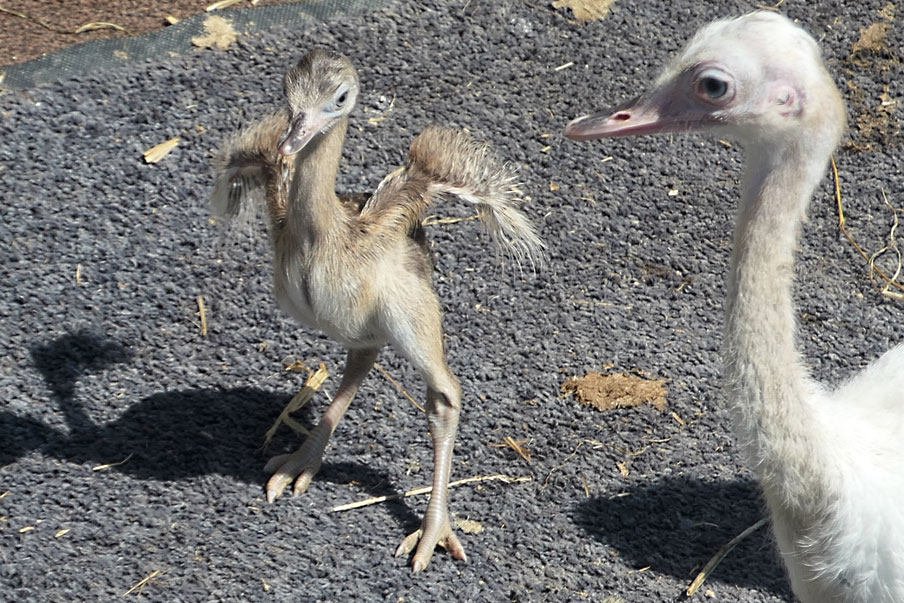 16th: A cooling river


The image of Stonefly, sums up today's walk: number three in our-need-to-get-out-with-the-dogs walks to Heywood Forest. We all got rather hot and I almost joined Stonefly, Roxy and Dragonfly in the river and for once we didn't mind too much when they came and shook themselves all over us!! The major excitement was meeting other people - a family with three dogs and two or three shrieking children who all smiled, laughed and thought our dogs mad but lovely and - get this - a second family with a young child in a pushchair and a dog on a lead having a picnic by the edge of the river!! They were totally lovely and whilst our dogs showed a fair amount of interest in all these sitting targets - all was fine! Slobbery, wet dogs was all a part of their expectations - apparently!!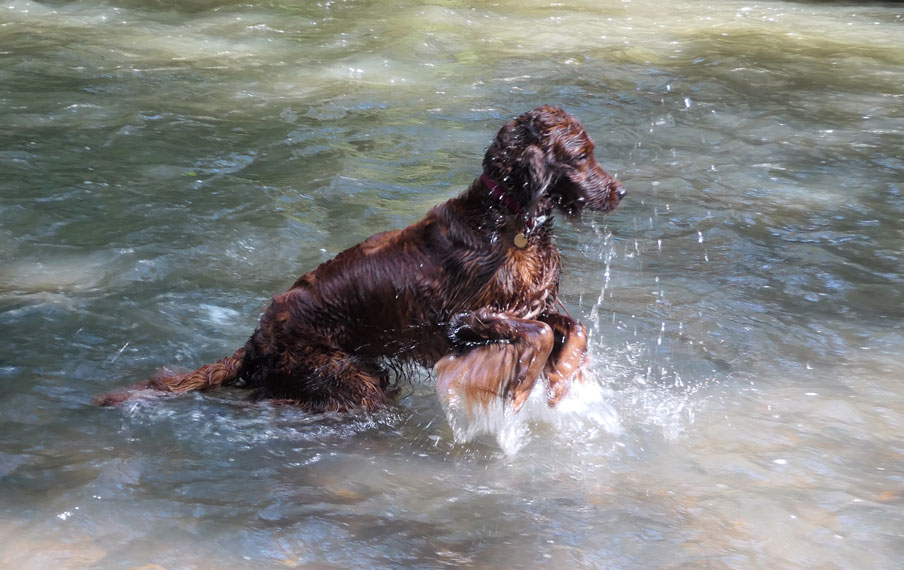 17th: Inexperience


We have had two pairs of swallows nesting in our main barn this year, one, rather gratifyingly, using the 'repaired' nest from last year - repaired with a feed sack no less! Early evening yesterday we managed to witness the first fledgling leaving a nest - it flew to a window and stood posing for a photo until a parent flew back in and encouraged it outside. You can tell it is a youngster - there's a undefinable raw inexperience about that look that makes one cross fingers and hope it makes it through the rest of the summer, and beyond!!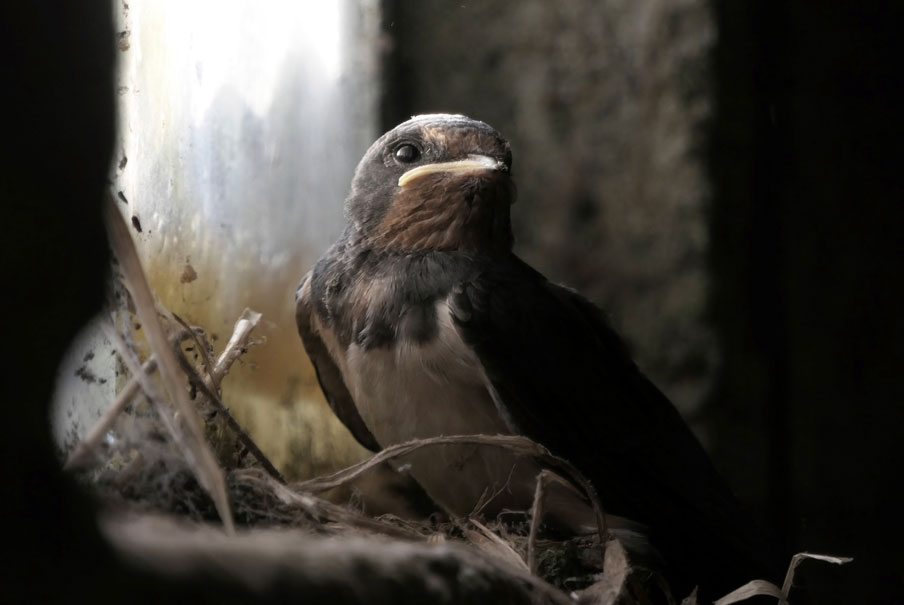 18th: Hot!!


A very, very hot day - just look at the colour of that sky!!