About a week ago, we spied a bit of activity in what we are now referring to as our 'little house in the woods'. This is a poultry house that David made years ago, big enough to house a few young birds or a broody and her chicks overnight. Since moving here, it has been outside, not massively used and gradually becoming rather well camouflaged by nettles and thistles.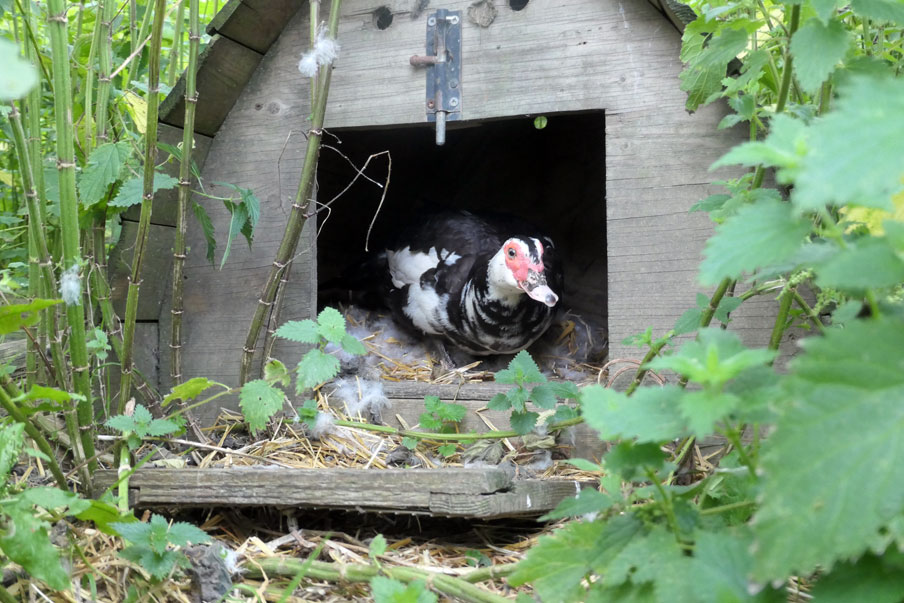 Banana, who left her first brood to fend for themselves a good three weeks ago now, had obviously begin laying again and several days ago stopped coming into the stable at night, signifying that she was indeed now 'sitting'!!
We are reasonably confident we don't have a fox around at the moment and as far as being hidden goes, she has chosen a fab spot, so... fingers crossed.. (we do of course have the alpacas in the field next door).
Whilst we don't really need any more ducklings (we have bred almost 50 this year), we have a poultry course at the end of the month and by then, the eggs will hopefully be hatching, so actually... great timing Banana.. well done!!