Well – what an entrance into the world these guys have made. In order of birth: welcome to Peanut, Walnut and Hazelnut (M, F, F). We found Peanut mid pm with his head hanging out of Coriander's vulva but no feet showing at all. A quick examination, followed by a quick flick of two bent legs and out he came, albeit cold and weak. Cori was somewhat shocked by the whole event and made no move to lick her son or indeed make any effort to give birth to any subsequent kids.
Having not seen any signs of her being ready to give birth and with no actual due date for her, we hadn't checked her for several hours and so had no idea how long poor Peanut had been in the position he was in.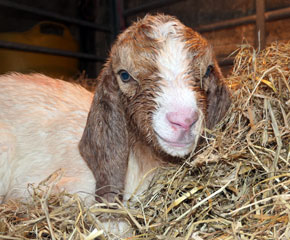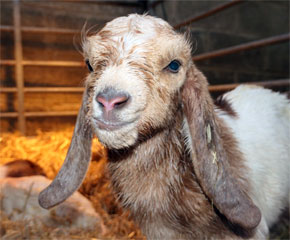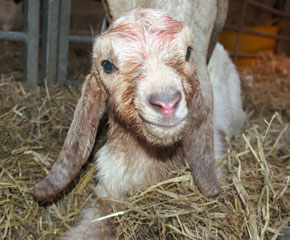 With Cori pacing and ignoring her son we had a quick check to see where kid number two was and discovered she was quite far back still. Cori continued to pace and have zero contractions and so fearing the worst, we went back in but to our relief found a kid in the birth canal and ready to come out.
With gentle coaxing and talking, Cori began to take a bit of an interest in her new daughter and eventually her new son (who was warning up but still weak) and it was as she was really getting stuck into licking Walnut, that kid number three put in a very fast appearance and landed unceremoniously in the straw in a heap of legs and neck!!
Three kids on a first kidding: poor Cori!! She was not at all interested in giving them any milk so we extracted a load and bottle fed all three in order to get that vital colostrum inside them in those first vital few hours!!! Fortunately all three sucked well and the effect on the boy was pretty instantaneous as he began to make very real efforts to stand up.
We continued to support and feed and to get Cori to stand and let the kids suckle and by the early hours we felt confident to go to bed knowing that bellies were pretty full, Cori was calmer and the afterbirth had been passed. We left them in a hurdled pen with a heat lamp and went to bed happy with the outcome and relived that we had got there in time – just about!!!
A traumatic start to our 2019 kidding – fingers crossed the next three 'old-timers' just get on with it!!!