It was back to the wind and the rain today but we let the sheep have a graze for a few hours before luring them back to the shelter with a few sheep pellets. They are just so easy to move and as the picture shows, all look very snug in their strawed-out shelters (this one is actually the top 3-acre shelter where they were last week but the 4-acre one is very similar)!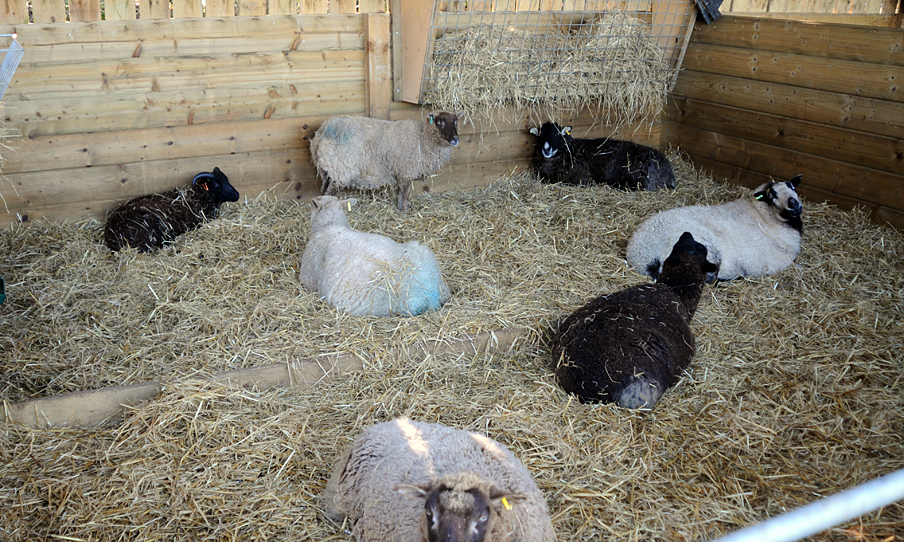 Straw is in short supply this year due to rubbish weather at harvest time but so far we have been lucky. Our normal supplier has kept us going up to now and has another 60 for us that he should be able to deliver in the next couple of weeks. We have also just found a second supplier who will be dropping off 60 of his next week. Both lots wil be barley straw which is softer than wheat straw and also much loved by all the animals who usually like to eat a fair bit of it when it first goes down as bedding! Our new supplier assures us his is 'feed' quality too!
Since last mentioning our straw usage (at the start of this month), it has shot up and we have now been using 10 bales a week, which matches last year. Some of it is because of the sheep and alpacas being in the field shelters more, some because it is wet and the straw gets damp and so degrades quicker. We are very generous with our straw mind you and we do like all the animals to have a really think top clean and dry layer!!