Today was a rather lush sunny day and as the forecast for the rest of this week is mist, fog and more rain, we made the most of it. The sheep went back into the four-acre field, just for a few days!! The sun will make a bit of difference to the wet mud around gateways etc but overall the four-acre field is NOT proving to be the dry winter field it was last year!!
We were going to leave the alpacas in the three-acre field but they followed us and the sheep (we had food) and then looked rather askance as we closed the gate and they realized they now couldn't go back!!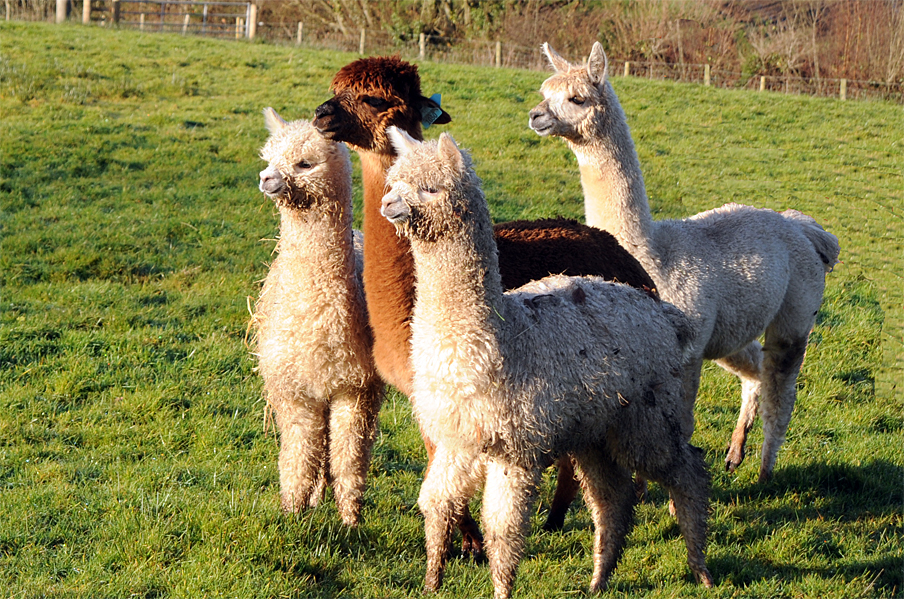 We have been having a few discussions as to whether we ought to continue to keep all six of them. The plan before Saturn died was to go back to five, selling either the two cria or Venus and her cria. Saturn dying and having to then bottle feed Pluto curtailed that plan. Now Pluto is weaned, we are wondering what to do. Pluto is really bonded with Mars as well as with Mercury, his older sister. Thoughts have revolved around selling just the two cria OR the two girls (Venus and Mercury) and so leaving us with just boys OR selling the three youngest (Pluto, Mars and Mercury). We definitely want to have at least three and Neptune and Jupiter are definitely going to stay as they have been with us for four years now, both are very used to us, tame and easy to handle and we know and love their characters – they are VERY different!.
Of course until we have our TB testing, we shouldn't make any plans and so at the moment, all these thoughts will have to remain swirling around in our heads… maybe when we CAN make a decision, it will be obvious what one we should make!!!