This is Pebbles aged just a few weeks and then again, aged two and a half!!! Pebbles is one of Curd's daughters who we sold back in 2015 when she was four months old. Curds herself we rehomed last February, along with Pickle, after much heart ache and indecision and two of her previous daughters, Cheddar and Gorge, we had put to sleep over a year ago due to chronic issues with their feet and joints!!!
So, the thing is, we are buying Pebbles back!!! It's a bit of a crazy decision and one based pretty much on emotions!!! Although, having visited her current home today and seen her in the flesh, she is actually a very nice looking goat and should produce some very lovely kids.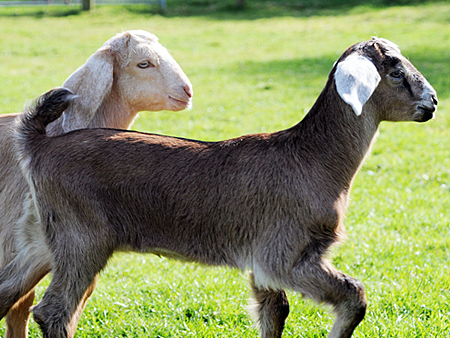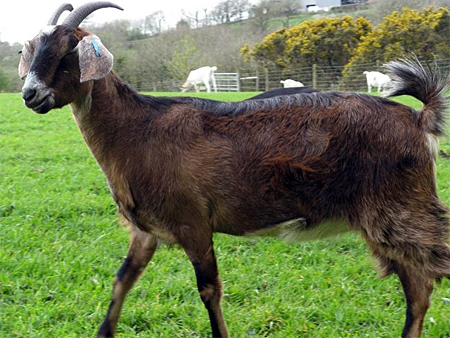 We (Jack) still misses Curds like mad. We get regular updates about her and she is doing really well but nonetheless, she has left a hole, far over and above any other animal we have parted with before! Buying back Pebbles is a potential way of filling that hole, just a little. It doesn't take away from the fact that Onion, Sorrel, Coriander and Tarragon are all gorgeous and loved to bits. With Pebbles here too, it just feels it could all be even better!!
Of course back when we made the decision to euthanize Cheddar and Gorge, part of our thinking was that their feet and joint issues could be hereditary. I contacted Pebble's current owner to alert her and at that time, she said Pebbles was fine. Having examined her yesterday, a year on, we can conclude that there are no signs of any feet issues at all, at the moment. Our plan is to put her on the same foot supplement that we ended up giving to Curds as we felt that really did make a difference - and then see how things go!
The other issue is of course bullying. We rehomed Curds and Pickle because they bullied the Boers and after six months, we could see no sign of things ever being good enough for them all to live together unsupervised 24/7. We have no real idea what the relationships will be like when Pebbles comes to live here. Our gut feeling is that due to having three individual adult goats as opposed to any 'bonded pairs', there will be some hierarchical sorting to be done but, fingers crossed, it won't be as full on as when we had Curds and Pickle here. The really amazing thing is that the current owners have said if it doesn't work out, they WILL take her back!!!
So, Carlos arrives tomorrow to have his wicked way with Onion and Sorrel and then as soon as he goes back home, we can collect Pebbles and bring her here. We are beyond excited!!!