Today we managed to drag ourselves away from the ducklings and do some topping up of straw in the animal shelters. As the weather continues to be wet and cold, the shelters are being used more and more. This last week has seen us use over a bale of straw a day as the mucking out has been far more intense than usual for the time of year!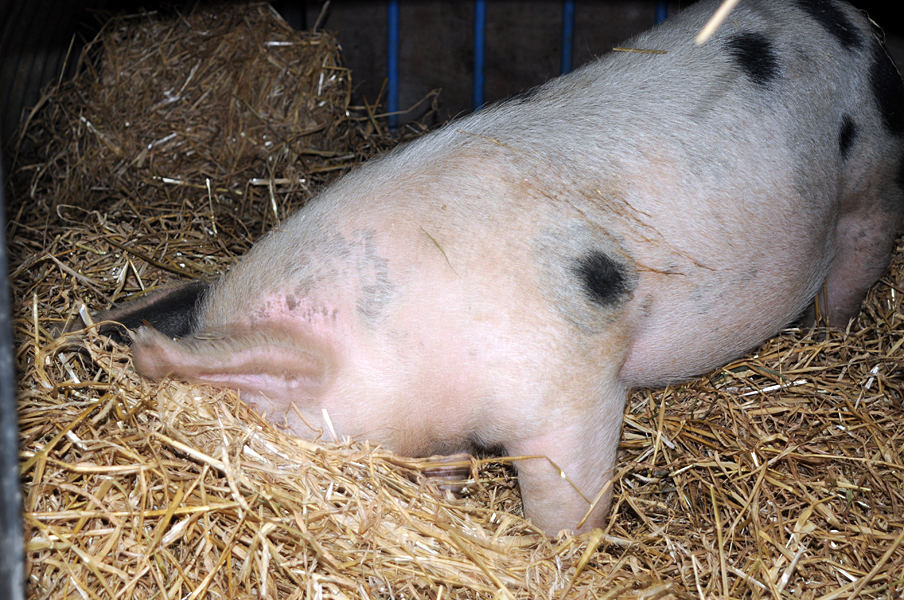 Pigs of course don't need mucking out as unlike ALL our other livestock, they DON'T poo in their arc. We provide straw for them to sleep on and keep warm but over time, it does start to disintegrate, a process accelerated by the pigs walking and lying on it whilst wet and muddy. Today we therefore removed a lot of the old damp straw and gave them a fresh bale. As the photo shows, we had pig heaven for a while as the two of them buried their heads in it, grabbed mouthfuls and shook it, thrashed around in it and generally had huge fun.
The calves did likewise down in the bottom three-acre shelter whilst the sheep, once they saw what we were doing, simply came running over to eat. We are using fresh barley straw which in their eyes (or mouths) is almost as good as hay!!
Providing straw for pigs is seen as an 'enrichment' activity and it is something encouraged in indoor pig units to stop the animals getting bored and/or fighting with each other. And to think, ours get straw AND 24/7 digging - we wouldn't have it any other way.